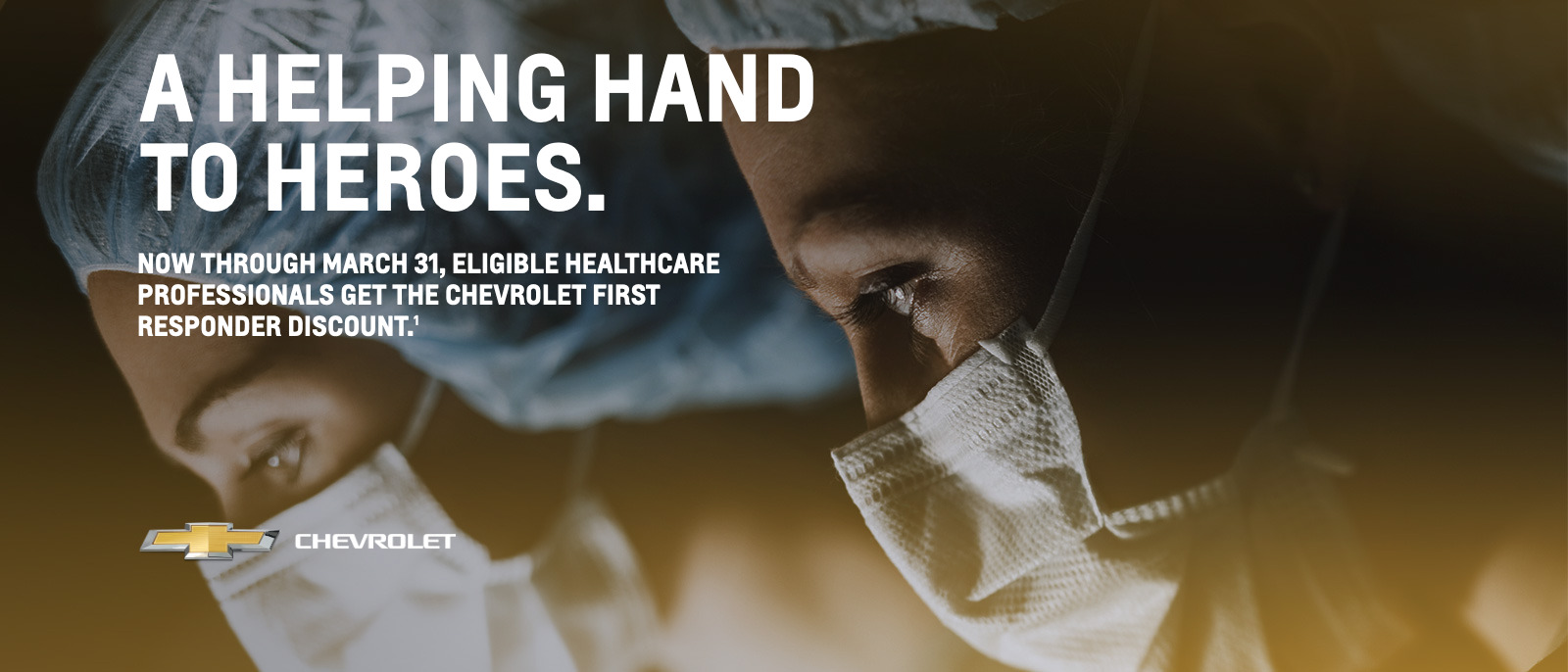 FOR OUR MILITARY, EDUCATORS AND FIRST RESPONDERS, CHEVY HAS LONG SUPPORTED OUR EVERY DAY HEROES. NOW MORE THAN EVER, WE'RE GRATEFUL TO THE DOCTORS, NURSES AND OTHER HEALTHCARE PROFESSIONS BRAVELY TAKING CARE OF US DURING THESE TRYING TIMES. AS A SMALL WAY OF SAYING THANKS, WE'RE EXTENDING THE CHEVROLET FIRST RESPONDER DISCOUNT TO THOSE COMMITTED TO HELPING OUR COMMUNITIES.
WHO IS ELIGIBLE FOR THE GM FIRST RESPONDER DISCOUNT?
Discount is available on eligible, new Chevrolet vehicles to the following: paid or volunteer Firefighters, Police - including Police Officers, Sheriffs and Sheriff's Deputies, Correctional Officers, State Troopers and Federal Law Enforcement Officers - EMTs/Paramedics and 911 Dispatchers, and other qualifying Healthcare Professionals†.
WHICH VEHICLES ARE ELIGIBLE?
Many new and unused 2020 and 2021 Chevrolet cars; SUVs; crossovers; midsize, light-duty and HD pickup trucks; and passenger and cargo vans are eligible.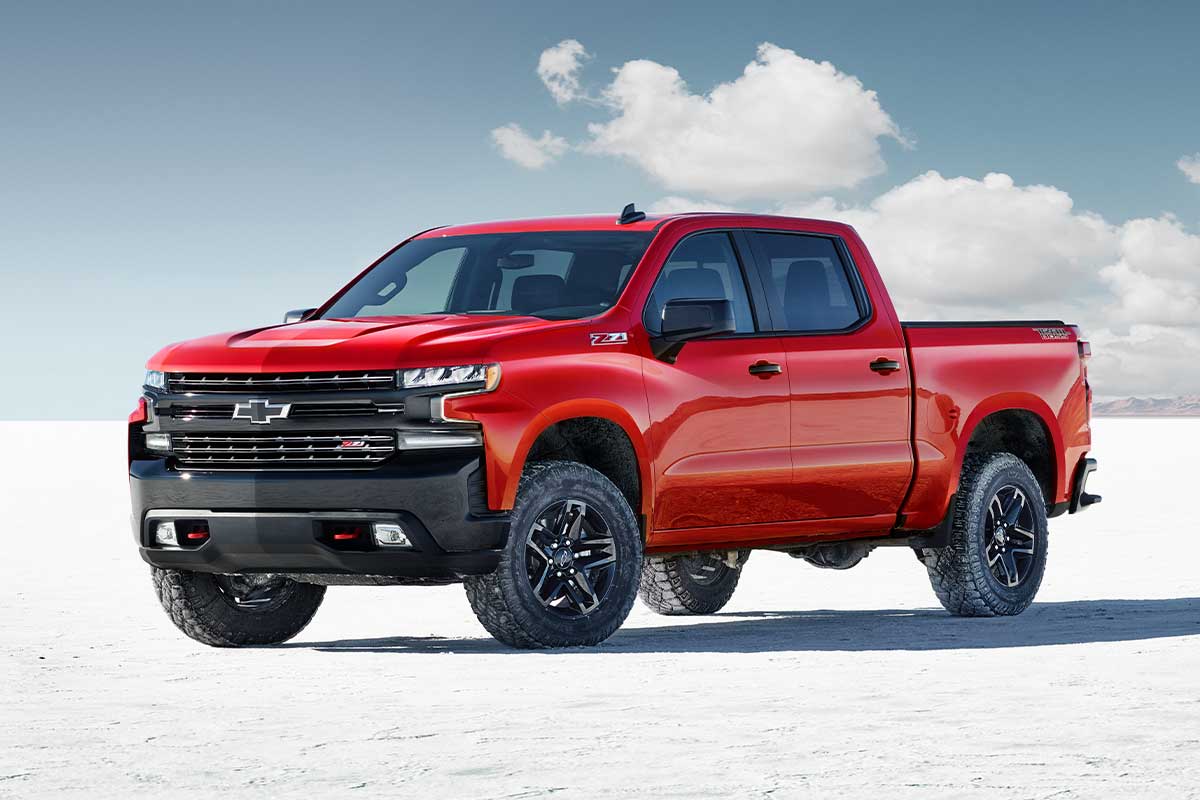 W3sibmFtZSI6IlJvdyIsImNvbHMiOlt7Im5hbWUiOiJDb2x1bW4iLCJzaXplcyI6eyJ4cyI6IjEyIiwic20iOiI2IiwibWQiOiI2IiwibGciOiI2In0sInpvbmVzIjpbbnVsbCxudWxsLG51bGwsbnVsbCxudWxsLG51bGwsbnVsbCxudWxsLG51bGwsbnVsbCx7InpvbmVLZXkiOiJzcGFjZXIxNTcxMjY3ODM3MDIxIiwidHlwZSI6InNwYWNlciIsIm1hbmlmZXN0Ijp7Im5hbWUiOiJTcGFjZXIiLCJ0eXBlIjoicGxhY2Vob2xkZXIiLCJ0b2dnbGUiOiJuYSJ9LCJkb21BcmdzIjp7ImhlaWdodCI6eyJ2YWx1ZSI6IjEwcHgiLCJ0eXBlIjoicGxhaW50ZXh0In0sInpvbmVLZXkiOiJzcGFjZXIxNTcxMjY3ODM3MDIxIn0sImxwYiI6IntcInNlbGVjdG9yXCI6XCIuc3BhY2VyMTU3MTI2NzgzNzAyMVwiLFwibmFtZVwiOlwiU3BhY2VyXCIsXCJ0eXBlXCI6XCJwbGFjZWhvbGRlclwiLFwidG9nZ2xlXCI6XCJuYVwiLFwiaGllcmFyY2h5XCI6XCJjaGlsZFwifSJ9LG51bGwsbnVsbCxudWxsLG51bGwsbnVsbCxudWxsLG51bGwsbnVsbCxudWxsLHsiem9uZUtleSI6InNwYWNlcjE1NzEyNjk1NDg1NDQiLCJ0eXBlIjoic3BhY2VyIiwibWFuaWZlc3QiOnsibmFtZSI6IlNwYWNlciIsInR5cGUiOiJwbGFjZWhvbGRlciIsInRvZ2dsZSI6Im5hIn0sImRvbUFyZ3MiOnsiaGVpZ2h0Ijp7InZhbHVlIjoiMTBweCIsInR5cGUiOiJwbGFpbnRleHQifSwiem9uZUtleSI6InNwYWNlcjE1NzEyNjk1NDg1NDQifSwibHBiIjoie1wic2VsZWN0b3JcIjpcIi5zcGFjZXIxNTcxMjY5NTQ4NTQ0XCIsXCJuYW1lXCI6XCJTcGFjZXJcIixcInR5cGVcIjpcInBsYWNlaG9sZGVyXCIsXCJ0b2dnbGVcIjpcIm5hXCIsXCJoaWVyYXJjaHlcIjpcImNoaWxkXCJ9In0seyJ6b25lS2V5Ijoic3ViaGVhZGVyMTU3MTI2OTU1MDU0NyIsInR5cGUiOiJzdWJoZWFkZXIiLCJtYW5pZmVzdCI6eyJuYW1lIjoiU3ViIEhlYWRlciIsInR5cGUiOiJ0ZXh0IiwidG9nZ2xlIjoib24ifSwiZG9tQXJncyI6eyJ0ZXh0Ijp7InZhbHVlIjoiV0hPIElTIEVMSUdJQkxFIEZPUiBUSEUgR00gRklSU1QgUkVTUE9OREVSIERJU0NPVU5UPyIsInR5cGUiOiJwbGFpbnRleHQifSwiem9uZUtleSI6InN1YmhlYWRlcjE1NzEyNjk1NTA1NDcifSwibHBiIjoie1wic2VsZWN0b3JcIjpcIi5zdWJoZWFkZXIxNTcxMjY5NTUwNTQ3XCIsXCJuYW1lXCI6XCJTdWIgSGVhZGVyXCIsXCJ0eXBlXCI6XCJ0ZXh0XCIsXCJ0b2dnbGVcIjpcIm9uXCIsXCJoaWVyYXJjaHlcIjpcImNoaWxkXCJ9In0seyJ6b25lS2V5IjoidHh0MTU3MTI2OTU1Nzg0OCIsInR5cGUiOiJ0eHQiLCJtYW5pZmVzdCI6eyJuYW1lIjoiVGV4dCIsInR5cGUiOiJ0ZXh0IiwidG9nZ2xlIjoib24ifSwiZG9tQXJncyI6eyJ0ZXh0Ijp7InZhbHVlIjoiRGlzY291bnQgaXMgYXZhaWxhYmxlIG9uIGVsaWdpYmxlLCBuZXcgQ2hldnJvbGV0IHZlaGljbGVzIHRvIHRoZSBmb2xsb3dpbmc6IHBhaWQgb3Igdm9sdW50ZWVyIEZpcmVmaWdodGVycywgUG9saWNlIC0gaW5jbHVkaW5nIFBvbGljZSBPZmZpY2VycywgU2hlcmlmZnMgYW5kIFNoZXJpZmYncyBEZXB1dGllcywgQ29ycmVjdGlvbmFsIE9mZmljZXJzLCBTdGF0ZSBUcm9vcGVycyBhbmQgRmVkZXJhbCBMYXcgRW5mb3JjZW1lbnQgT2ZmaWNlcnMgLSBFTVRzL1BhcmFtZWRpY3MgYW5kIDkxMSBEaXNwYXRjaGVycy4iLCJ0eXBlIjoicGxhaW50ZXh0In0sInpvbmVLZXkiOiJ0eHQxNTcxMjY5NTU3ODQ4In0sImxwYiI6IntcInNlbGVjdG9yXCI6XCIudHh0MTU3MTI2OTU1Nzg0OFwiLFwibmFtZVwiOlwiVGV4dFwiLFwidHlwZVwiOlwidGV4dFwiLFwidG9nZ2xlXCI6XCJvblwiLFwiaGllcmFyY2h5XCI6XCJjaGlsZFwifSJ9LHsiem9uZUtleSI6InNwYWNlcjE1NzEyNjk1NzU3MzQiLCJ0eXBlIjoic3BhY2VyIiwibWFuaWZlc3QiOnsibmFtZSI6IlNwYWNlciIsInR5cGUiOiJwbGFjZWhvbGRlciIsInRvZ2dsZSI6Im5hIn0sImRvbUFyZ3MiOnsiaGVpZ2h0Ijp7InZhbHVlIjoiMTBweCIsInR5cGUiOiJwbGFpbnRleHQifSwiem9uZUtleSI6InNwYWNlcjE1NzEyNjk1NzU3MzQifSwibHBiIjoie1wic2VsZWN0b3JcIjpcIi5zcGFjZXIxNTcxMjY5NTc1NzM0XCIsXCJuYW1lXCI6XCJTcGFjZXJcIixcInR5cGVcIjpcInBsYWNlaG9sZGVyXCIsXCJ0b2dnbGVcIjpcIm5hXCIsXCJoaWVyYXJjaHlcIjpcImNoaWxkXCJ9In0seyJ6b25lS2V5Ijoic3ViaGVhZGVyMTU3MTI2OTU3Nzg3MSIsInR5cGUiOiJzdWJoZWFkZXIiLCJtYW5pZmVzdCI6eyJuYW1lIjoiU3ViIEhlYWRlciAyIiwidHlwZSI6InRleHQiLCJ0b2dnbGUiOiJvbiJ9LCJkb21BcmdzIjp7InRleHQiOnsidmFsdWUiOiJXSElDSCBWRUhJQ0xFUyBBUkUgRUxJR0lCTEU/IiwidHlwZSI6InBsYWludGV4dCJ9LCJ6b25lS2V5Ijoic3ViaGVhZGVyMTU3MTI2OTU3Nzg3MSJ9LCJscGIiOiJ7XCJzZWxlY3RvclwiOlwiLnN1YmhlYWRlcjE1NzEyNjk1Nzc4NzFcIixcIm5hbWVcIjpcIlN1YiBIZWFkZXJcIixcInR5cGVcIjpcInRleHRcIixcInRvZ2dsZVwiOlwib25cIixcImhpZXJhcmNoeVwiOlwiY2hpbGRcIn0ifSx7InpvbmVLZXkiOiJ0eHQxNTcxMjY5NTg3NzI3IiwidHlwZSI6InR4dCIsIm1hbmlmZXN0Ijp7Im5hbWUiOiJUZXh0IDIiLCJ0eXBlIjoidGV4dCIsInRvZ2dsZSI6Im9uIn0sImRvbUFyZ3MiOnsidGV4dCI6eyJ2YWx1ZSI6Ik1hbnkgbmV3IGFuZCB1bnVzZWQgMjAyMCBhbmQgMjAxOSBDaGV2cm9sZXQgY2FyczsgU1VWczsgY3Jvc3NvdmVyczsgbWlkc2l6ZSwgbGlnaHQtZHV0eSBhbmQgSEQgcGlja3VwIHRydWNrczsgYW5kIHBhc3NlbmdlciBhbmQgY2FyZ28gdmFucyBhcmUgZWxpZ2libGUuIiwidHlwZSI6InBsYWludGV4dCJ9LCJ6b25lS2V5IjoidHh0MTU3MTI2OTU4NzcyNyJ9LCJscGIiOiJ7XCJzZWxlY3RvclwiOlwiLnR4dDE1NzEyNjk1ODc3MjdcIixcIm5hbWVcIjpcIlRleHRcIixcInR5cGVcIjpcInRleHRcIixcInRvZ2dsZVwiOlwib25cIixcImhpZXJhcmNoeVwiOlwiY2hpbGRcIn0ifV19LHsibmFtZSI6IkNvbHVtbiIsInNpemVzIjp7InhzIjoiMTIiLCJzbSI6IjYiLCJtZCI6IjYiLCJsZyI6IjYifSwiem9uZXMiOlt7InpvbmVLZXkiOiJpbWcxNTcxMjY3Mjc1MjY4IiwidHlwZSI6ImltZyIsIm1hbmlmZXN0Ijp7Im5hbWUiOiJJbWFnZSIsInR5cGUiOiJpbWciLCJ0b2dnbGUiOiJvbiJ9LCJkb21BcmdzIjp7ImltYWdlVXJsIjp7InZhbHVlIjoiaHR0cDovL3BsYWNlaG9sZC5pdC8xMjAweDgwMCIsInR5cGUiOiJwbGFpbnRleHQifSwiZGVzY3JpcHRpb24iOnsidmFsdWUiOiJGZWF0dXJlIiwidHlwZSI6InBsYWludGV4dCJ9LCJ6b25lS2V5IjoiaW1nMTU3MTI2NzI3NTI2OCJ9LCJscGIiOiJ7XCJzZWxlY3RvclwiOlwiLmltZzE1NzEyNjcyNzUyNjhcIixcIm5hbWVcIjpcIkltYWdlXCIsXCJ0eXBlXCI6XCJpbWdcIixcInRvZ2dsZVwiOlwib25cIixcImhpZXJhcmNoeVwiOlwiY2hpbGRcIn0ifV19XX1d